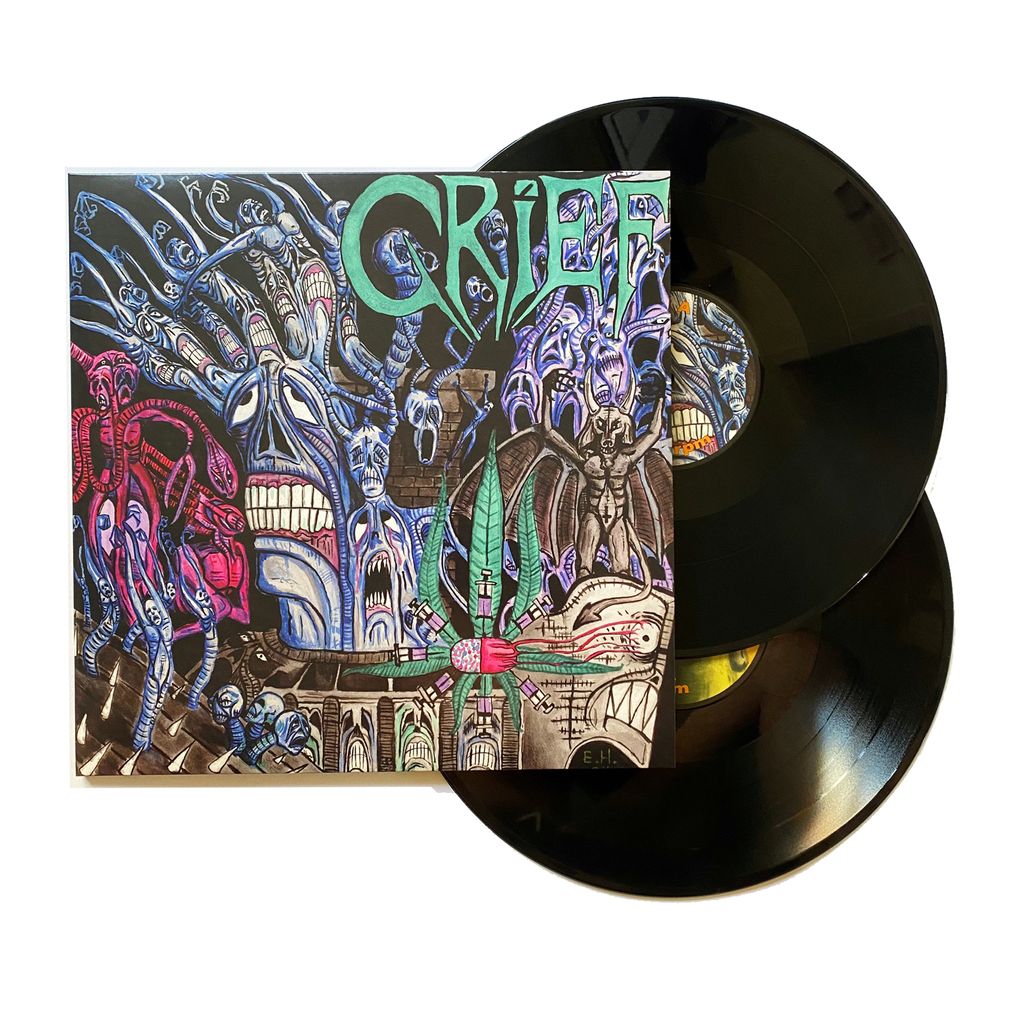 New
• Grief "Come to Grief" 2LP
THRONE RECORDS
Available on :
Black Vinyl

Review from sludgelord.com :

Line up -
Jeff Hayward | Guitars, Vocals
Terry Savastano | Guitars
Randy Odierno | Bass
Rick Johnson | Drums

'Come to Grief' an ugly, corrosive beast of an album and it is miserable in a way that so few doom or sludge bands are even capable of being. It was meant to be an unpleasant experience, steadfastly committed to a singular style with very little variation, but it's completely unique. The guitar chords used are often more full than typical power chords and add a sonic dimension that the genre's other heavyweight, Eyehategod, wasn't providing. Breaking down each song individually would seem like an exercise in redundancy, if only because the tone and style of each song is pretty similar. I submit to you that the redundancy of 'Come to Grief' is its strength, rather than a hindrance.
Despite each chord and downbeat sounding like some unfair responsibility given to the entire band, and performed with the urgency an unfair responsibility is usually given; the beauty of this album is how accurately it reflects their state of mind at the time. When you get a glimpse into where the band was at mentally at during the time the album was recorded, the frustration being expressed in every note makes sense.
In an interview with Zena Tsarfin of Chronicles of Chaos in 1997, guitarist Terry Savastano described Grief as a slow, monotonous dirge born from smoking a bunch of grass and being "bored and bummed out". It's an observation that's free of bullshit and it helps define what makes 'Come To Grief' work so well. He didn't make any attempt to assign a deeper meaning to his music, or try to dress it up with some higher concept. They were just fucking high and depressed and decided they were going to use their instruments to take it out on the lot of us. In that sense, the album is the perfect musical embodiment of young, restless boredom.
As far as the production is concerned, 'Come to Grief' is perfect. The tone of the bass and guitars are exactly as filthy as they ought to be, without being too fuzzy and perfectly complement the mood of the compositions. The drums and particularly the snare are powerful and sound as if you are in a rehearsal space, listening in person, which in my mind is a compliment. Sludge is a genre where achieving a certain sound can be the difference between admiration and rebuke, so Grief and Bill T. Miller pulled off quite the feat with the production on 'Come to Grief'. The band's debut, 'Dismal', suffers somewhat from an uneven production, where the bass is too loud and clean, the snare is too high-pitched and the guitars are too fuzzy to give each note in a chord the right representation. Obviously, they managed to improve things substantially the second time around.
Overall, you might consider this album mandatory simply because it's fucking Grief, at the height of their craft in an era where this shit wasn't spilling out of just about every part of the globe. Even with sludge seeing such an increase in the number of bands trying their hand at a tough game, 'Come to Grief' stands atop a mountain peak most shouldn't even attempt to reach.



---